Collection:
Applejack
8 products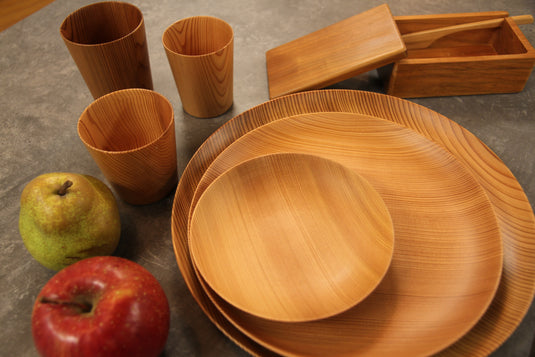 Applejack is keeping on producing wood wares by using Yoshino cedar, Yoshino hinoki, cherry blossom or other local wood which . And they are making products to let you feel the warmth of the highest quality wood closely in your daily life.
The well-rounded fine annual rings of Yoshino cedar brings about beauty and strength to the wood. Its beautiful wood grain must be an art masterpiece of nature. Furthermore, material of Yoshino cedar is flexible yet strong so that it can be finished beautifully and robustly when processed.
Yoshino cedar contains oil so the color would turn to deep amber with years. The more you use it, the color may get depth. Enjoying changes by using wood products is one of the fascination part of it.
Category
Tableware
Kitchen
Knicknack
Fashion
Brand List
Use left/right arrows to navigate the slideshow or swipe left/right if using a mobile device